You can play google dino absolutely in any browser and on any mobile device. To start playing in the browser, press the space bar or the up arrow. By pressing the down arrow, the T-Rex will sit down. To start playing on your mobile device, just touch the screen.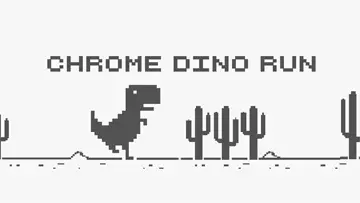 Dinosaur game is fun offline game with the cartoon T-Rex in Chrome browser, who wants to set the biggest record in the hurdle race. Help the dinosaur fulfill his dream, because without you he can't handle. Start a race in the desert, jump over cactus, set incredible records and have fun.
The jumping dino mini-game first appeared in the popular browser Google Chrome version named Canary. The page with this offline entertainment opened when there is no internet on your PC or other device. On the page, the popular species of dinosaur T-Rex just stands without moving. This will continue until before you click on the "space" button. After that dino will start to run and jump. Therefore, not all users know about this fascinating game. This is the name of the only species of tyrannosaurus - Tyrannosaurus Rex. The translation of its name from Latin is king.
To jump with our hero, press the spacebar or click on the screen if you have not PC, but other device, such as a phone or tablet.
After the start of the game, T-Rex will start to run. To jump over cactus you need to click on the "space" again.
The speed of the dino game will gradually increase, and cacti will be more difficult to jump over. When you score 400 points, flying dinosaurs - pterodactyls - will appear in the game.
You can also jump over them, or if you are playing from a computer, you can bend down by clicking on the button "down".
The game is endless. Do not try to get through to the end.